Opponent of slavery. Advocate of gay and animal rights. Social reformer. Conceptualiser of the Panopticon – a method of incarceration coupled with complete surveillance.
What a curious, contradictory figure Jeremy Bentham was.
Is.
Because even though he died in 1832, this enlightenment social philosopher wanted his body to remain present in the world.
Literally.
So he requested his own mummification. And on his decease the process was duly carried out; just not particularly well.
The newly-formed Imperial College London, recipients of Bentham post mortem, considered his ghoulishly discoloured head testa non grata. Rather than attracting students, it was thought more likely to send them running for the hills.
So the powers that were did the obvious thing: they had it removed and replaced with a more palatable wax version. The original spinetingler was sent 'below stairs', only to be brought out on special occasions.
But even deprived of his head, Jeremy Bentham found more success after his death. His panopticon, the prison system he spend years devising and even longer trying in vain to persuade politicians to put into practice, has exerted an influence he gave up hope on achieving.
With the panopticon, as with his more liberal viewpoints, Bentham was ahead of his time. It wasn't until the late nineteenth century, with the advent of the modern industrial state, that actual bricks and mortar panopticon-style jails began to be constructed. From the second half of the twentieth century, with the mass gathering of data about citizens, the idea expanded beyond its architectural origins. The millions of East Germans who lived for decades not knowing whether or not their neighbours across the landing were Stasi informants experienced life as a kind of panopticon without walls. Anna Funder's Stasiland tells their story: it's one of the best non-fiction books I have ever read.
The Berlin wall may have fallen, but surveillance – the sense that our private lives are not private at all – is alive and thriving. Our smartphones track our every move; our most intimate communications are stored on servers; our photos, relationships and career history are out there somewhere beyond our control. Is someone, somewhere studying it all, knowing us better than we know ourselves? Maybe. Maybe not. It's probably best not to think about it. I tried living without a smartphone for four months and at times it felt like falling off the map of humanity.
No wonder writers keep returning to Bentham's idea. I've already written about my admiration for Jenni Fagan's 2014 debut novel, The Panopticon. I had forgotten that another of my favourite authors, David Mitchell, also namechecks the device in 2001's Number9Dream, whose 20 year old narrator-protagonist is trying to track his unknown father in the techno-jungle of Tokyo. In the novel's opening scene, Eiji sits in a cafe, planning his assault on a skyscraper called PanOpticon, lair of the lawyer paid to keep the identity of his father secret. Later, there is a comic scene in which an ATM machine starts flashing Eiji personal messages which disappear the second he accosts a member of staff – leading him, naturally, to be considered a nutcase.
Mitchell's Eiji has a fair bit in common with Fagan's Anais, whose Panopticon is a Victorian institution still used as a 'facility' to house young offenders. One is Japanese and male; the other is Scottish and female. Both are adolescent protagonists trying to break down the walls – visible and invisible – that stop them knowing the truth.
Both are in dialogue with Jeremy Bentham's (badly) mummified head.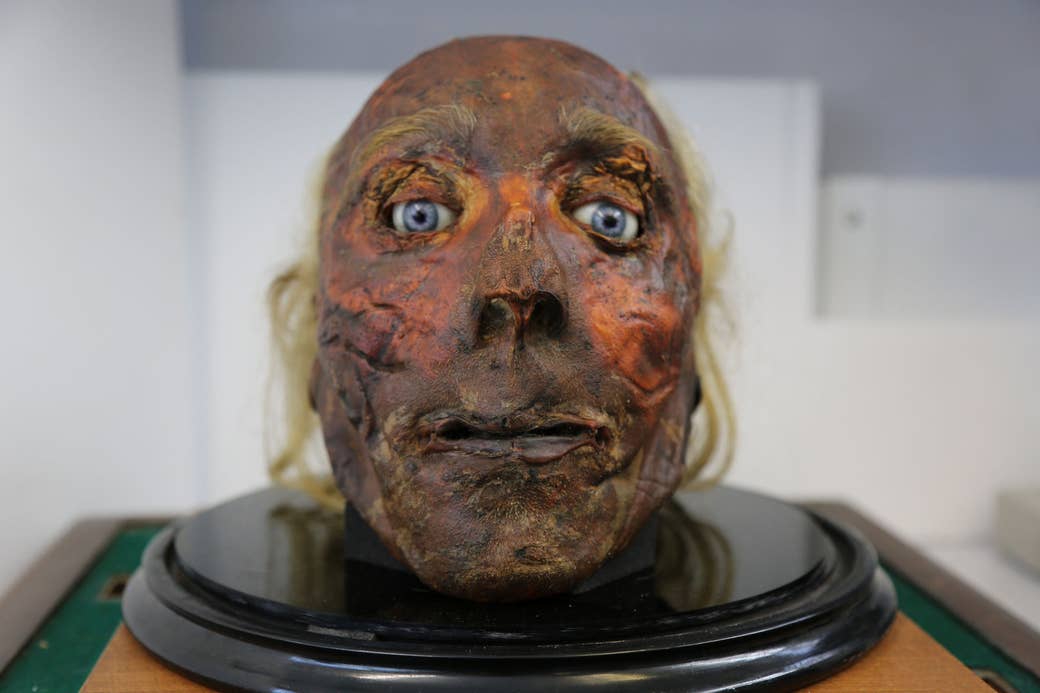 All of which is quite a long introduction for a poem I spent an evening last week constructing.
Utilitarian Poem No.0514 (love letter to Jeremy Bentham's Head)
To the Incas, human sacrifice
might have satisfied Bentham's test:
"for the greater happiness of the majority"
Apt then that he wanted his head
mummified, but it was botched
Purple as an item handed in
by a public-spirited glacier
Lost Property of the Andes 
in Paddington Bear's suitcase
to University College London.
We should go to see it, you and I,
After a decade trying to love
across continents, visas, emoticons
struggles to parse emotions
from language overthought.
He wouldn't see us or have to, his panopticon
has come to pass. Our love's history's
a data set for the unseen, unknown 
i at the centre of things, hoarding
our words symbols sounds images
similes metaphors conceits – I wait
on the other side – wait
for your unscreened body's give – wait
to show that shrivelled head: we mean to live.